How God Will Use Problems to Complete Your Faithful Journey
Our faith journey is a lifelong pursuit of connection with God. As we grow and mature in our faith, our aspirations for the future change. Deepening our understanding and knowledge of God is a lifelong pursuit that requires continual learning and growth.
Faith growth is an essential aspect of our spiritual journey, and it is often through new challenges and problems that our faith is strengthened. As believers, we are called to trust and rely on God, especially in difficult circumstances, which can lead to a deeper understanding of our faith. Problems can serve as opportunities for growth and transformation, and it is through these experiences that we can learn to lean on God and develop a stronger faithful journey in Him. Thus, it is important to view problems as a means of spiritual growth, rather than simply obstacles to overcome.
Understanding the Purpose of Problems in Your Faithful Journey
Problems play a significant role in our faith transformation, as they can lead to a deeper understanding of God's plan for our lives. Through problems, we can learn to trust in God's sovereignty and His ability to work all things for our good. As we navigate difficult situations, we can seek God's guidance and wisdom, which can lead to a more profound connection with Him. Our faith can also be strengthened through prayer and seeking God's presence in the midst of our problems. Thus, it is vital to trust in God's plan and purpose, even when we cannot see the bigger picture.
Trusting in God's plan in the midst of problems requires a willingness to surrender control and rely on His guidance. This involves confessing our sins and choosing to believe in God's faithfulness and goodness. Difficult times can be opportunities to draw closer to God and experience His love and grace in new ways. Therefore, it is essential to have faith in God's ability to use our problems for our good and His glory, even when we do not understand the reason for our struggles. By trusting in God's plan, we can experience transformation and growth in our faithful journey.
How Problems can Strengthen Your Faithful Journey
Trials and problems can be challenging, but they also have the potential to strengthen our faithful journey and build resilience. As Christians, we are not immune to the difficulties of life, but we can learn from the examples of those who have gone before us and find hope in God's promises. Through trials, we can learn to persevere and develop the character that God desires for us. The character that God is forming in us through suffering and trials is the character that he wants to see in his heavenly bride. Therefore, we can trust that God is using our problems to transform us into the people he wants us to be.
Trials also provide an opportunity to develop trust in God's provision. When we face challenges that are beyond our control, we can turn to God and trust that he will help us through them. Even when we do not understand why we are facing a particular trial, we can trust that God has a purpose and a plan for our lives. As we learn to trust in God's provision, our faithful journey grows stronger, and we become more confident in his ability to guide us through life's challenges.
Through trials and problems, we can grow in faith and spiritual maturity. Challenges force us to confront misunderstandings about our identity in Christ, which can lead to a deeper understanding of who we are in God's eyes. By spending regular time with God and immersing ourselves in his Word, we can allow God's teachings to transform us and help us become the mature Christians he desires us to be.
Additionally, surrounding ourselves with other strong believers who can support and encourage us can also contribute to our spiritual growth. Ultimately, by trusting in God and allowing him to use our problems to transform us, we can become the people he wants us to be and fulfill his purposes for our lives.
Common challenges in Navigating Problems in Your Faith Journey
One of the common challenges in navigating problems in our faith journey is doubt and uncertainty. It is natural to question our beliefs and have doubts about God's plan for our lives, especially when faced with difficult situations. However, it is important to remember that even uncertain faith can be enough for Jesus. To overcome doubt and uncertainty, we can turn to practical ways to grow our trust in God through every circumstance. We can also stay in faith by speaking God's Word and avoiding words of doubt or complaint. Faith in God and His guidance through the Holy Spirit can sustain us in an increasingly challenging world.
Fear and anxiety are also common challenges we may face in our faith journey. The Bible tells us that a person who doubts should not expect to receive anything from God, and anxiety stems from a lack of faith in our heavenly Father. However, we can learn to trust God to calm our anxious minds and overcome the grip of fear. We can also choose a posture of hope and optimism, which can help us become better at overcoming the spirit of fear with faith. Ultimately, the solution to fear is love, and God's perfect love can cast out all fear.
Feeling discouraged or abandoned by God is another common challenge we may face in our faith journey. However, we can take comfort in the fact that God has a good plan for our lives, even when we feel like He has abandoned us. We can also remember that God is a God of hope, and those who trust in Christ always have reason to be full of hope. Even in times of spiritual desertion, we can live free and content lives by focusing on God's promises and the hope we have in Him.
Biblical examples of how God uses Problems to Complete Your Faithful Journey
The Bible provides numerous examples of how God uses problems to transform individuals' faith. One such example is Joseph, who faced numerous trials and tribulations, including being sold into slavery by his brothers and being falsely accused of a crime he did not commit. However, Joseph's faith in God remained unwavering, and he ultimately triumphed through God's grace, forgiveness, redemption, and sovereignty. Joseph's story demonstrates how God can use trials and adversity to mold and shape individuals into leaders and faithful servants.
Job is another biblical figure who exemplifies faithfulness in the face of suffering. Despite losing his wealth, health, and family, Job remained steadfast in his faith in God, refusing to curse Him or turn away from Him. Through Job's suffering, God revealed His sovereignty and the importance of trusting in Him, even in the midst of trials. Job's story teaches us to hold on to our relationship with God during times of suffering and to trust in His love for us.
The apostle Paul is yet another example of how God uses problems to transform faith. Paul faced numerous trials and persecution throughout his ministry, including imprisonment and beatings. However, his unwavering faith in God enabled him to endure these hardships and continue spreading the gospel. Paul's story teaches us that even in the midst of suffering, faith, and love can flourish, and God can use our trials to strengthen our faith and transform us into faithful servants.
DEFYING THE STORMS IN YOUR LIFE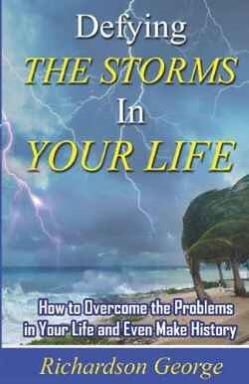 How to overcome the trials and tribulations in your life.
Imagine taking something that is meant to destroy you and using that same thing to develop you instead.
How is your storm helping you? Storms are unavoidable realities of life.Imagine facing a serious problem in your life and not losing your peace and becoming frustrated and depressed but rather using it to produce something positive in your life. What if you can walk on water in your storm instead of sinking?
Rev. Richardson George, being a senior pastor for over 25 years has been instrumental in helping many people overcome storms and problems in their lives and experience victory.
His personal experience of overcoming storms in his own life like has taught him many valuable life lessons on winning over adversity in life.
This entire book is a practical interpretation of Peter's experience of walking on water to Jesus in an unexpected life-threatening storm on the Sea of Galilee (Matthew 14:22-33). It identifies timeless principles that we can apply to solve our personal problems today.
In this book, you will discover:
How to overcome the unavoidable storms and problems in your life.
How to walk on water when sinking is easier.
How to make history IN your storm.
10 Characteristics of history makers exclusively from Peter's experience of walking on water.
Principles from Peter's water-walking experience that you probably never saw before.
How this book could be rewritten without saying anything about Peter taking his eyes off Jesus and sinking?
Buy this book NOW and defy and overcome the storms in your life instead of being defeated and destroyed by them.
In conclusion, problems are an inevitable part of our faithful journey, but they serve a greater purpose in transforming and strengthening our faith. Through trials, we can build resilience, trust in God's provision, and grow in spiritual maturity. However, navigating problems can also bring challenges such as doubt, fear, and discouragement.
It is important to remember that God uses these challenges to transform our faith and draw us closer to Him. Biblical examples such as Joseph, Job, and Paul demonstrate how God can use problems to bring about incredible transformation in our lives. Therefore, let us trust in God's plan and allow Him to use our problems to transform our faith for His glory. 
Shalom is a Blessing, a manifestation of Divine Grace.
Call or Text Someone Today and Tell Them You Love Them
The more of Jesus you place into your heart the more darkness is pushed out.
Disclosure: This page may contain affiliate links. This means at no additional cost to you. we may receive a commission if you purchase a product from one of our links. We only recommend products we trust. 
Jesus Is Lord      Contact Us