Powerful Christian Homeschool Curriculums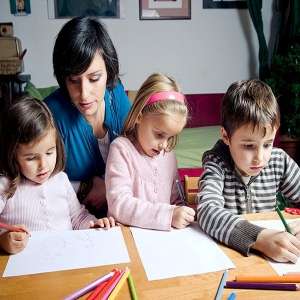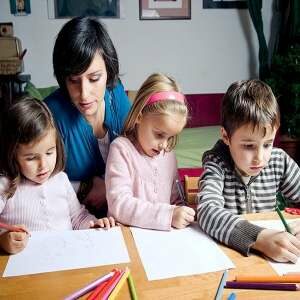 Our time with our children is short. How are you doing? Is your spiritual training adequate? Pray to God that the lessons you teach your children will sink deep into their hearts and make them strong to resist the enemy's enticements.
Children are important to God. They are God's Gifts to parents.​ If we do not teach our children to follow Jesus, the world will teach them NOT to. Help them overcome nefarious thoughts. Children Build the Future – Teach Them TRUTH and Virtues!
Public schools do not teach children morals, virtues, or spiritual growth, but with Christian Homeschool Curriculums you can teach your precious kids absolute truth, health, boldness, character strength, virtues, finances, proper sex education, sexual behavior, and most important, the Word of God, which is the Will of God.
Children need to be nurtured with love, truth, honesty, compassion, character, and adhere to Integrity, Christian Morals, Ethical Principles to make the world a better place for them in the future.
You, as a parent, have a very special and powerful spiritual authority over your children. You need to accept and step into that God-given authority. Your prayers for your child carry weight before God. God chose YOU to take care of your child. You set the spiritual rules!
God has an enormous calling on your child's life. And it's worth fighting for. It is so vital to pray for your child's salvation and expose them to Jesus as much as possible when they're young.
50% of children that come to Christ were led by their parents!
YOU as the parent have the most important spiritual role in your child's life. That's why you have to press into prayer for your child's salvation.
Learning together will make a family's bond stronger and stronger. Your children need to learn Resourcefulness Living in this wicked world, the ability to cope with difficult situations, or unusual problems with the Word of God. Your children will have to fight wickedness throughout their life time. Teach them how God fights their battles for them. Be the one that Prepares them for eternal life with Jesus Christ. You will be Rewarded by God. 
Always Put God First and Enjoy Life in Christ!
Raising Godly Children in an Ungodly World--Parenting Study Kit
Raising Godly Children can be difficult. Here is some solutions and tips on creating an incredible faith in your family.
The roles of husband, wife, and children in the family.
How we should discipline our children.
How to make Scripture come alive in our children.
What does God's Word teach us regarding roles of parents and how to bring up children? In a culture hostile to Christian values, Christian families struggle to give their children a strong foundation of biblical faith.
What does the Bible teach about discipline? How can you leave a godly legacy for your kids? In this Bible-based study for parents, Ken and Steve Ham offer 11 family-strengthening sessions (approx. 25 minutes each) with discussion questions and easy homework assignments to encourage you in "training up" your children. Curriculum includes five DVDs, leader's guide, and printable workbook.  Raising Godly Children
Character Builder's Bible
60 Character-Building Stories from the Bible
The Character Builder's Bible highlights core character traits that the Bible teaches and suggests fun, practical ways to live out these truths so that little minds can understand. Each Bible narrative is told simply, is tied to a positive attribute like obedience or humility, and is followed with a real-life example of how kids can apply the lesson in their own lives.
Featuring 60 Bible stories with colorful illustrations, definitions, and memory verses, The Character Builder's Bible will show your little ones that God's Word is relevant to their lives and will help you instill biblical character in their hearts.
Recommended for ages 4 to 7 years.
Best Christian Homeschool Inspiration For Kids
Bible Verses For Kids – Bibles Stories For Kids – Bibles For Kids
Great For Little Hands and Curious Minds
Celebrating God's Design for Ethnic Diversity
God Made Me and You
Children must learn to love one another through God's Love.
This beautifully illustrated children's book invites kids to explore God's design for ethnic diversity and challenges readers both parents and children to learn and live out counter-cultural, biblical views, fostering a lifelong celebration of diversity for the glory of God.
Because biblical Scripture teaches that ethnic diversity is not something that should be tolerated but rather enthusiastically embraced, Christian hip hop artist Shai Linne helps children, parents, and caregivers to celebrate this biblical truth through a lyrical, rhyming style and colorful illustrations.
This colorful and compelling children's book serves as a resource and lifelong gift for children and parents, helping families understand ethnic diversity from a biblical perspective and with a clear picture of the beauty and glory of God.
A few brief descriptions of the 24 New Testament DVD Collection.  
He Is Risen – The most powerful story of all – from Christ's heroic death on the cross to the glorious joy of the resurrection on Easter, Many more, The Miracles of Jesus – Treasures in Heaven –  The Parables Of Jesus – The Prodigal Son – Saul of Tarsus – Built Upon the Rock – Jesus, the Son of God – The Kingdom of Heaven – The Lost Is Found – The Greatest is the Least and much more.  Christian Homeschool Elective 
A Kid's Guide to the Armor of God
The Armor of God is amazing for action we need to take in our spiritual lives. We are fighting a war, and the stakes are higher than they have ever been in human history. Children need to be taught early so they may be able to overcome the wiles of the devil and nefarious influences. 
Our enemy? Not flesh and blood, no human foe—we fight against a much more fearsome force.   Our adversary, Satan the devil, and his host of demons. Their mission and driving purpose: Obliterate the children of God.
Make no mistake: Our spiritual lives and future in God's Kingdom are on the line. If we lose this war, we lose everything. Our children need to learn early to prepare themselves to overcome a wicked world. Connect your children to be empowered with Jesus and WIN this war.
Book explains:
Scripture reveals who's behind the world's traps and snares and how to resist him. God offers all Christians a powerful suit of armor and mighty weapons. The suit includes a belt of truth and helmet of salvation to wear and shield of faith to carry into the battle. When every piece of God's armor is worn correctly, the enemy is defeated and Christians finish victorious.  Kids Guide to the Armor of God  
Call or Text Someone Today and Tell Them You Love Them
The more of Jesus you place into your heart the more darkness is pushed out. 
Disclosure: This page may contain affiliate links. This means at no additional cost to you we may receive a commission if you purchase a product from one of our links. We only recommend products we trust.